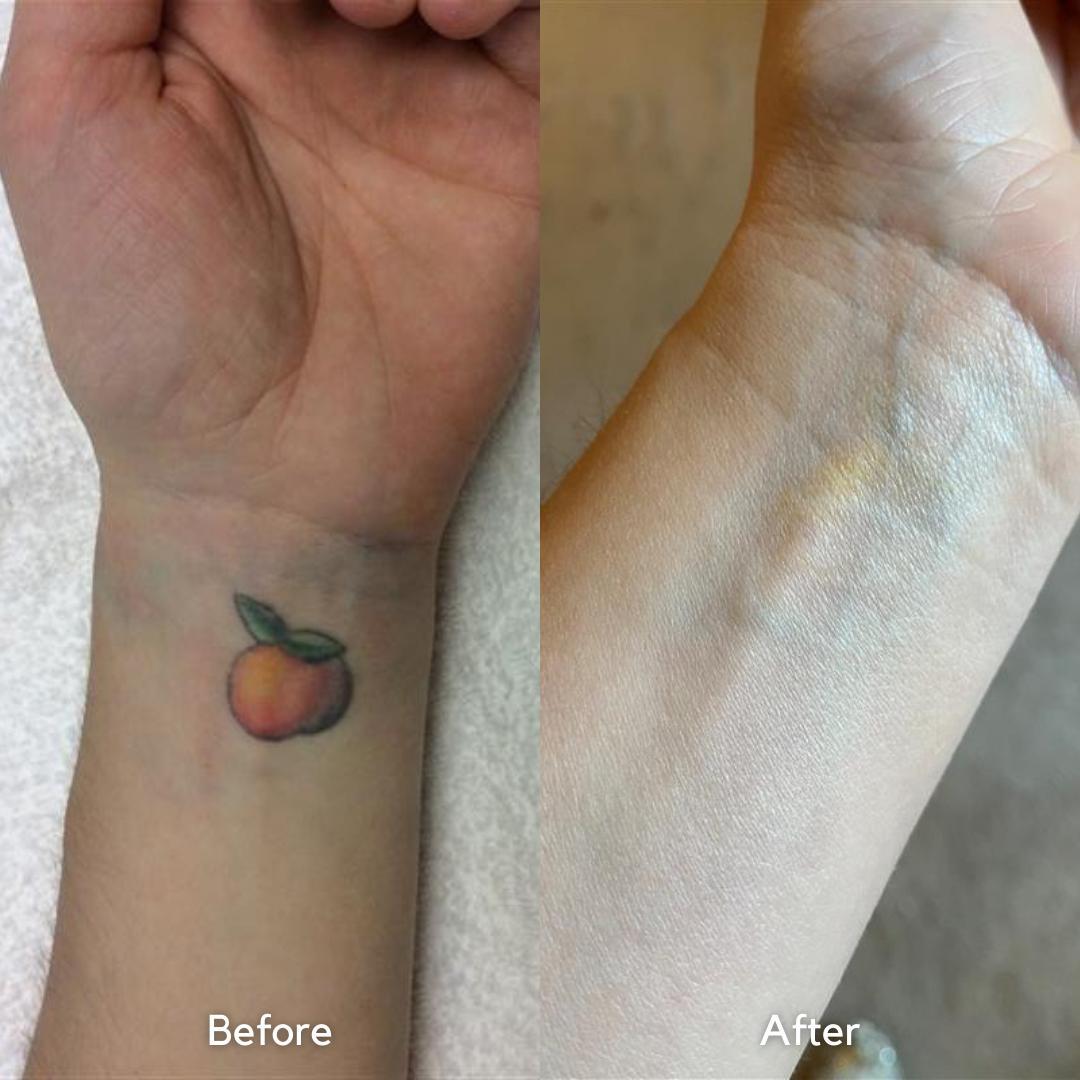 Our clients find that understanding tattoo removal cost is an important step in the tattoo removal process. Removery's expertise allows us to remove tattoos of all sizes using the safest and most efficient tattoo removal protocol and technology available, and we are prepared to address any concerns you have about removing your small tattoo. In this article, we explain what you need to know about the process, including small tattoo removal cost and timeframe.
What Size Is a Small Tattoo?
In most cases, a small tattoo is at least the size of a quarter. For example, these common tattoo types often qualify as a small tattoo:

A small heart on the wrist

A name tattoo across the back of the neck

A ring tattoo
Get Your Tattoo Measured and Evaluated by a Pro
Before we start removing your tattoo expert laser specialists will measure, evaluate and develop a treatment plan during a free consultation.
Book Consultation
Small Tattoo Removal FAQs
Our experienced specialists hear the following questions from clients in our offices on a regular basis. Here, we respond to common concerns such as how laser tattoo removal feels and which method is the best. If you're still curious about what to expect, we have answered more tattoo removal FAQs on the questions our specialists hear most often.
FAQs
How Much Does It Cost to Remove a Small Tattoo? 
Different removal facilities calculate the cost of small tattoo removal in different ways. The total cost varies by the desired outcome, which depends on a multitude of factors such as the colors and age of the tattoo. 
Call Now: 1-866-235-5961
Color and age of the ink
Certain colors (like turquoise) may take longer to remove than others (like black and dark green). Older tattoos usually fade over time and are typically easier to remove than a brand-new one. Along with existing tattoo composition, these factors affect how challenging the ink is to remove. 
The exact size of the tattoo 
Many facilities, like Removery, base the price of removal in part on the specific size of the tattoo. Laser tattoo removal prices often range from $10 to $25 per square inch for one session, or about $175 for a 4-square-inch tattoo. 
Which package you choose
Some facilities, such as Removery, primarily offer package deals and financing that make tattoo removal more accessible. At Removery, we offer packages based on the desired tattoo removal outcome. For those who want full tattoo removal, we have a full tattoo removal track that guarantees the total removal of all removable ink. 
The cover up tattoo fading track allows clients to fade only the necessary ink to get a tattoo coverup. Additionally, Removery's tattoo touchup sessions allow clients to remove blowouts and uneven lines so they can achieve the desired end result.
While tattoo removal cost is determined by many factors, size is the most important variable in determining how much tattoo removal will cost for you. We will need to see your tattoo in person to give you an accurate cost.
You may also want to read our article on general laser tattoo removal cost, which pertains to tattoos of all sizes. It provides additional insights that will help you understand what to expect in regard to cost. 
Can You Finance a Small Tattoo?
At Removery, we offer financing for everyone regardless of their financial situation. We do not turn anyone away. If you are concerned about the financial impact of tattoo removal take a look at our financing options. 
Easy Financing Options
How Many Sessions Does It Take to Remove a Small Tattoo?
Due to the factors mentioned above, the exact number of sessions to remove smaller tattoos will vary. However, it usually takes 8 to 12 sessions to remove a small or average-sized tattoo. As mentioned above, the colors of the ink and the age of the tattoo influence how long removal will take. 
The length of the process itself depends on saturation rather than size. Whether the client has a full sleeve tattoo or a tiny heart, size doesn't affect how quickly the ink is removed, she explains—although many large tattoos include more colors, which could make the process take longer in some cases. Many small tattoos are composed of a simple design done in black ink, which tends to be flushed out of the body faster than lighter colors like yellow and lime green.

How Long Does It Take to Remove a Small Tattoo?
Removing a tattoo generally takes about a year to two years. The size doesn't affect the total time of the process. "You have to go over the whole thing, whether it's big or small, and your body has to absorb in phases," says Carmen. The laser technician treats the area, your body absorbs the ink, and then you wait at least six weeks for the next session. It's the same process, regardless of size.
Each session only takes a few minutes for any size of tattoo—sometimes less for small ones. Even for large ones, clients are usually in and out in 15 minutes. 
Get Removal Estimate
Small Tattoo Removal Before and After
Removery is dedicated to providing the best clinical tattoo removal outcome in the shortest amount of time possible. Our clients count on our industry-leading protocol and technology to confidently fade and remove all large tattoos. Take a look at our real client results
Get Your Free Estimate
Connect with us to start your tattoo removal journey