Tattoo Removal on Dark Skin is Safe
To put it plainly, tattoo removal is safe for people of color. However, it does have its challenges. Removery and most other reputable laser companies use the Fitzpatrick scale to measure the amount of melanin in a person's skin.
The higher amounts of melanin in the skin means that heat is absorbed faster and spreads through the surface faster.
We've all worn a dark-colored shirt on a hot, sunny summer day – it feels much heavier and much hotter than wearing something in a light color.
Likewise, melanin's high energy absorption leads to the skin taking in too much energy from the laser, resulting in skin discoloration.
This means that laser tattoo removal on dark skin requires a different protocol than that used for clients with lighter skin.
Tattoo Removal on Dark Skin
In the past, tattoo removal was a dangerous and challenging endeavor. With the advent of laser removal techniques, this endeavor became significantly easier and a lot safer for people of color.
However, even with a variety of laser technology available, tattoo removal on black skin or brown skin is not without its risks.For Black, Latino, Asian, and all people of color tattoo removal has its hurdles, melanin absorbs laser energy the same way it would the sun's rays.
In this video, we review what you should know about tattoo removal on dark skin.
Locations
Tattoo Removal Experience Matters
When treating darker skin types experience matters, Removery focuses extensive effort to continually develop and improve upon the effective use of our laser technology.
With over 250k successful tattoo removal sessions performed in all skin types, we have unprecedented insight into tattoo removal on darker skin types.
Inexperienced doctors and tattoo removal clinics are likely to use the laser for too long or on too high a setting when treating dark skin, which can cause unnecessary pain and complications.
When skin is overworked with a laser, it is likely to heal slowly, become infected, or develop painful blisters. There is also a high likelihood of developing hyper or hyperpigmentation.
Dark Skin Tattoo Removal Before and After
Locations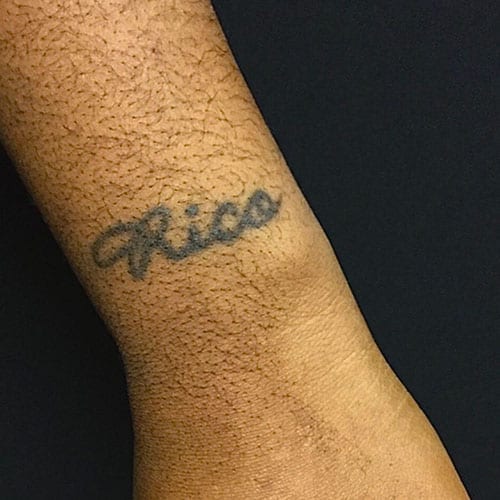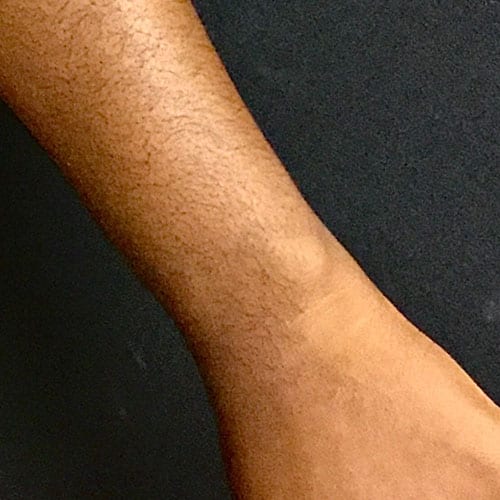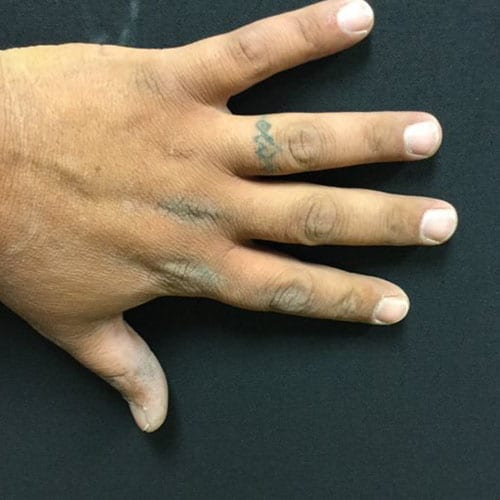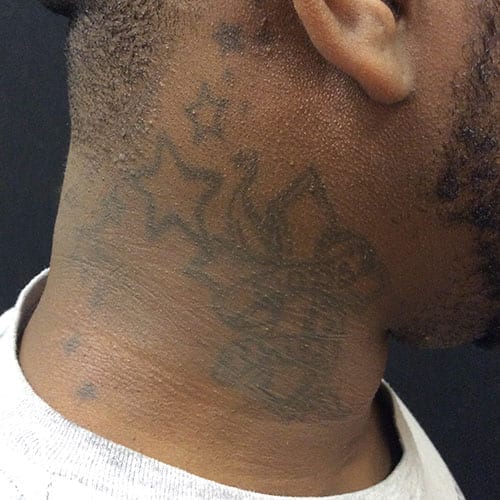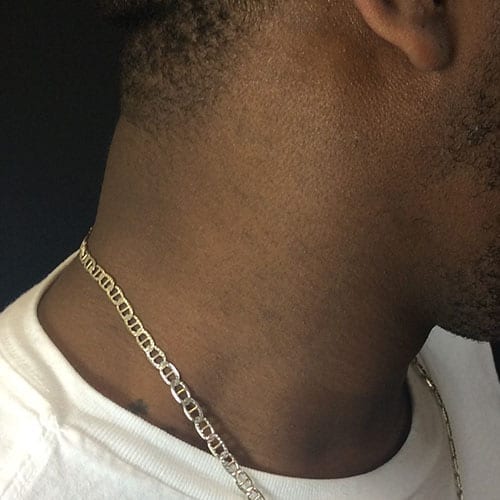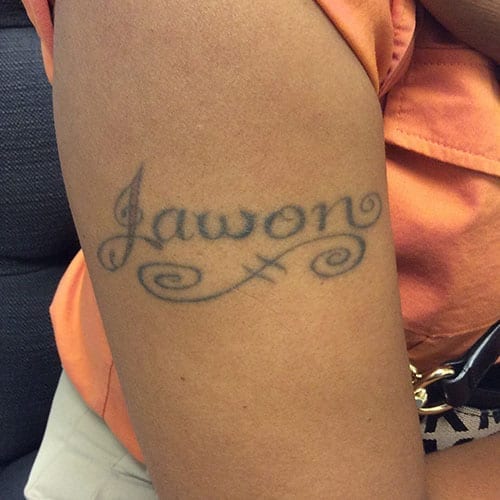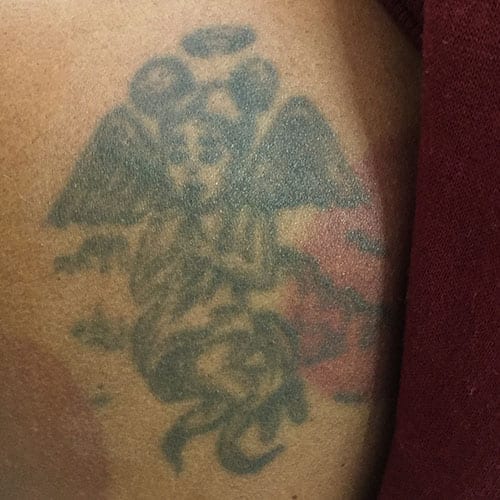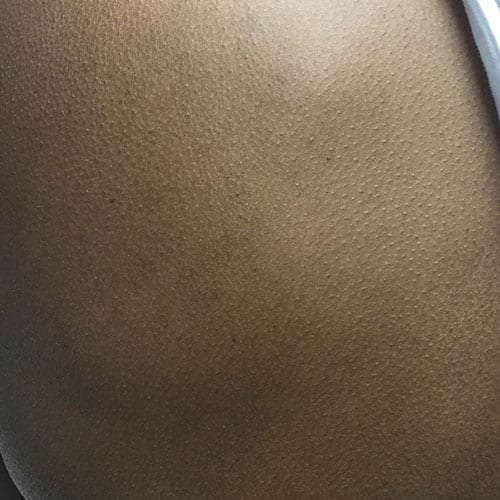 Dark Skin Tattoo Removal With Removery
There you have it! Tattoo removal does work on dark skin types. It's important to remember that everyone's tattoo removal journey looks different and you'll need to follow aftercare protocols in order for your tattoo to heal properly. Read more about how tattoo removal is safe on dark skin types and start your tattoo removal journey today! Book a free consultation with a studio near you or get a free estimate to learn more about your removal options with Removery.
Call Now: 1-866-235-5961
What Are Possible Side Effects of Laser Tattoo Removal for Darker Skin Tones?
Hyperpigmentation: The darkening of skin over time
Hypopigmentation: The lightening of skin in the area of the removed tattoo
Keloid scars: While rare, keloids are raised scar tissue that develop around the treated area
Risk of Tattoo Removal Hypopigmentation
Ineffective laser treatment on black and brown skin increases the likelihood of the skin developing hypopigmentation, or loss of color. Most cases will not be permanent and will go away after a while.
However, a very small percentage of cases of hypopigmentation are more permanent and leave behind a light-colored outline of the original tattoo, almost like a ghost of tattoos past.
Permanent cases of hypopigmentation are more likely to occur when laser tattoo removal procedures are performed by a careless or inexperienced individual. If you have fair skin, chances are the hypopigmentation will not be as noticeable, or maybe easy to cover up. If you have darker skin, concealing the ghost tattoo will be much harder.
But wait! There is some good news.
Newest innovations in laser tattoo removal technology, such as the PicoWay®, help ensure a safe, quick, and effective tattoo removal process.
However, it is important to remember that each tattoo is different, and will respond differently to treatment. Thus, you should always pick a reputable tattoo removal specialist who has experience working with darker skin tones to perform the procedure.
When working with a reliable specialist things like hypopigmentation, scarring and infections are much less likely to occur, and the healing period in between treatments takes far less time than with other tattoo removal technologies.
The newest, safest laser removal techniques, combined with proper aftercare are usually enough to avoid most adverse effects of tattoo removal, though it is important to remember that no two tattoos are ever alike.
Start With a Free Tattoo Removal Consultation
The best way to learn about how tattoo removal works or what tattoo removal will cost is to speak with a laser specialist at a tattoo removal location near you.
The specialist will review the size of your tattoo, explain how tattoo removal works and review pricing and payment options.
Removery is able to accommodate and safely treat all skin types. If you have questions about laser tattoo removal, please don't hesitate to contact our technicians. Removery aims to make tattoo removal affordable for everyone our tattoo removal prices are competitive, financing options are available.
Book Online
Book a Free Consultation
Get Your Free Estimate
Connect with us to start your removal journey