Back Tattoo Removal
People often opt into getting back tattoos because they are easily concealable and hidden if a workplace requires them to be.
On average a tattoo can be removed in 10-12 sessions. Whether the tattoo has colored ink or is black. Most colorful and black tattoos can be removed in the 10-12 session range.
Tattoo removal on the back is a relatively easy spot to remove. There is less discomfort than removal on some other parts of the body and can be comfortably concealed after a removal session.
Wrist Tattoo Removal
According to cosmo, the wrist is one of the most popular body parts to get tattooed. It's an easy spot to get something small with minimal discomfort. There's also minimal discomfort on this spot for removal, this is due to the fact that a single session typically lasts less than 5 minutes.
Tattoos on the wrist, hands, ankles, or feet often take more than 10-12 sessions for complete removal. This is due to the lack of circulation in those areas. Complete removal is possible but does often result in more sessions.
Get Your Free Removal Estimate
Connect with us to start your tattoo removal journey
Get Started
Arm Tattoo Removal
Typically, fine line or micro tattoos can be removed in 10-12 sessions. With less ink deposited into the skin, there are fewer layers of ink your body's white blood cells need to digest. Therefore, resulting in a quick and clean tattoo removal outcome.
Chest Tattoo Removal
Tattoos closest to the heart have the best chance at complete removal because of the circulatory system. More circulation means that there are more white blood cells available to digest the ink particles.
Finger Tattoo Removal
Finger tattoos can often take longer to remove because there is little circulation.
Like any tattoo, the density of the ink will affect how many sessions are needed for complete removal. A dense finger tattoo can often take more than 12 removal sessions to see complete removal results.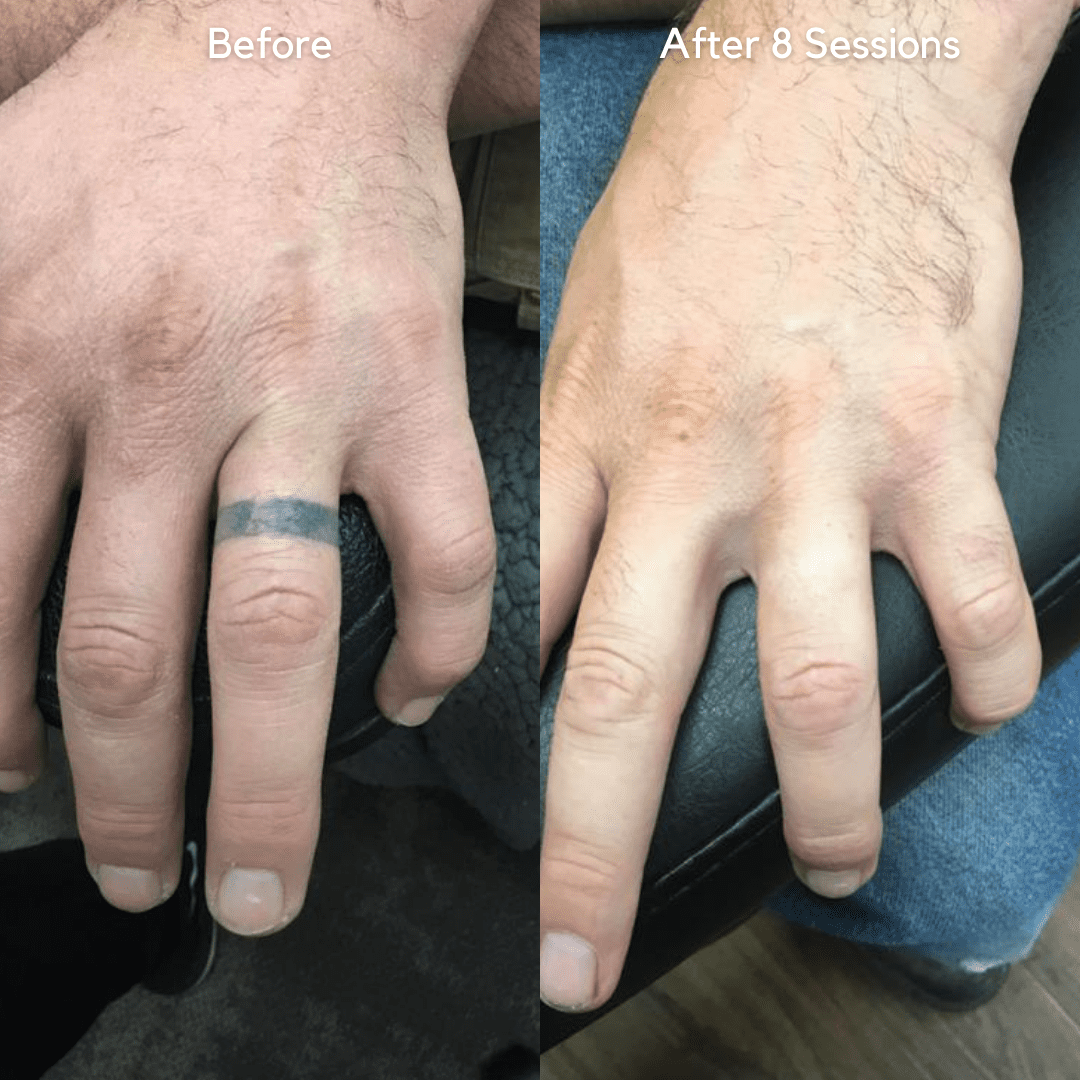 With little circulation and being a dense tattoo, 8 sessions is a great outcome for this removal.
Book A Free Consultation
Connect with us to start your tattoo removal journey today
Get Started
Face Tattoo Removal
Tattoos can be treated virtually anywhere on the body, except within the orbital bone. The orbital bone surrounds your eyesocket and has soft tissue that is exposed to your eyes. Unfortunately, without the proper eyewear, tattoos in the orbital bone can not be treated. If a tattoo is on the rim of the bone, like the one featured, it can be treated by slightly pulling the skin away from the eye and wearing protective eyewear.
Neck Tattoo Removal
It's important to be mindful of the amount of sun exposure your neck tattoo receives while receiving removal. It's ideal to keep it covered from the sun and protected with sunblock. Learn more about sun exposure and tattoo removal aftercare.
View Our Before and After Gallery
Removery has treated over 400,000+ tattoos with laser removal technology, and we've curated the best 2021 tattoo removal results for YOU. Check out our before and after gallery for more amazing results.
Before & After Gallery