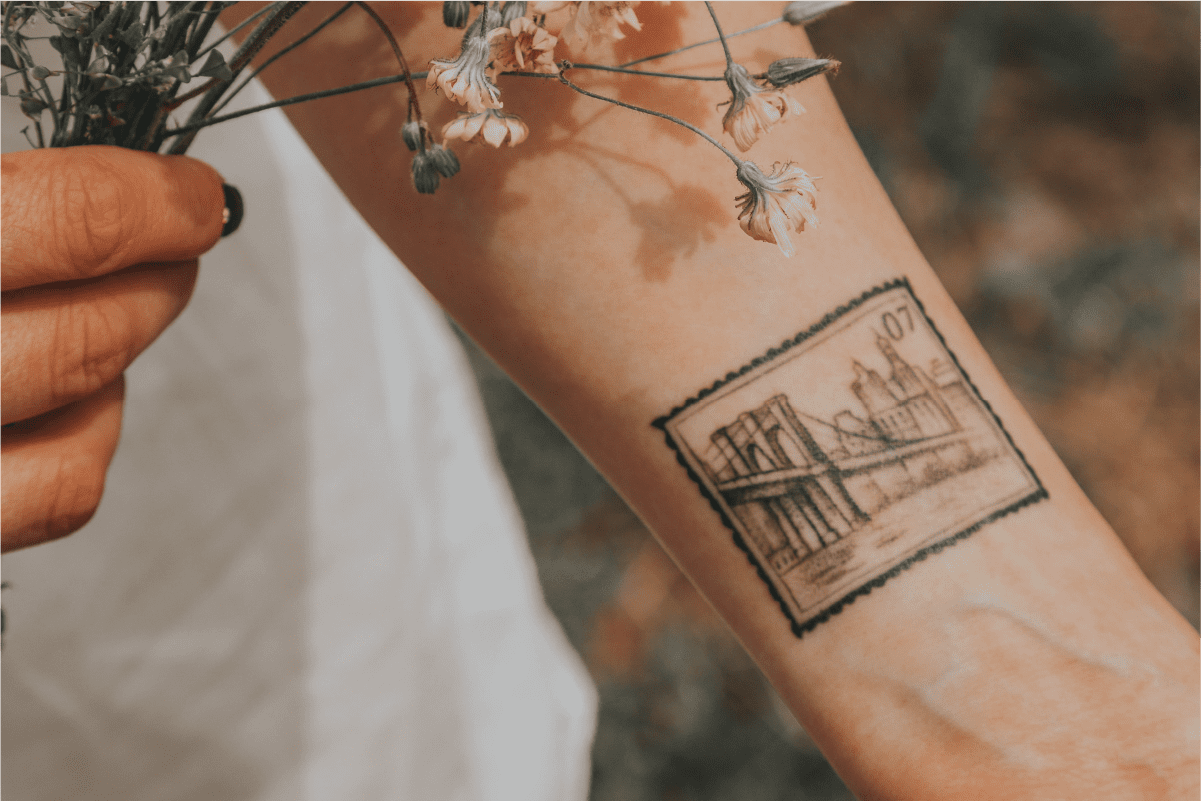 An unwanted wrist tattoo can be hard to hide which is why it is no surprise that wrist tattoo cover up tattoos are rare, the majority of our clients choose to completely remove their wrist tattoos. People often try to conceal a tattoo at work because their employer prohibits visible tattoos or the subject matter is inappropriate for the workplace. Many still like the idea of having a wrist tattoo, but they want something new that fits who they are today and creates the right image.
Fortunately, fading the old tattoo for a cover up is possible. We're referring to a new piece of permanent body art, not a temporary concealer or a bandage, which people often use to hide a tattoo for a job interview or even their everyday work. We have many satisfied clients who finally got the wrist tattoo they've always wanted after having the old one faded!
If you're tired of plastering on concealer day after day or having a bunch of heavy bracelets jangling on your wrist, laser tattoo removal or fading could be the right option for you. It will allow you to feel comfortable in your own skin rather than having to take extra steps just to feel like you fit in at your own workplace.
Looking for trendy tattoo cover up ideas for the old ink on your wrist? We'll share some before-and-afters of some of our favorite wrist tattoo cover-ups that are sure to inspire!
Call Now: 1-866-235-5961
What are the Best Wrist Tattoo Cover Up Designs?
There's no single best tattoo cover up for your old wrist tattoo. The best design for you depends on a combination of several factors:
The original artwork

How much fading do you opt for

What size and style do you prefer
If you have a slim, bracelet-style tattoo, it might be incorporated more easily into a new design with minimal fading. A skilled artist can work with you to create a new design where it blends in seamlessly. If you have a thick tribal tattoo, you will probably need more extensive fading (though, fortunately, black ink actually fades easily with laser removal!).
Top Wrist Cover Up Tattoo Ideas
Removery has interviewed some of our clients and tattoo artists to share their best wrist cover up ideas. Read on for some of our favorite wrist tattoo cover up designs, along with before-and-after photos!
Book a Free Consultation
Floral Wrist Tattoo Cover Up
This client came to Removery from her artist Nicole Suwalski in Buffalo, NY. Nicole had recommended fading the saturated black heart and numerals on her wrist before covering. Nicole works at the Crucible art collective and specializes in blackwork and illustrative tattoo cover up tattoos of the same style typically take more laser sessions because they require more negative space to create depth. The use of color allows artists to not only blend multiple shades but to fully saturate the area even when an original design is present.
Expert Note: Peonies are great floral tattoo concepts for cover-up tattoos because the petals have sweeping angles that distract the eye from the original design. Flowers with big broad petals are more difficult to cover up tattoo designs as the open fields of flat color can allow the original tattoo to show through.
Pink and Purple Lotus Blossom Wrist Tattoo Cover Up
This client came to Removery from a tattoo artist recommendation in Houston, TX. Initially, the tattoo artist recommended completely removing the original white daisy tattoo as the new concept incorporated a smaller flower pattern across the wrist like a band. Eventually, the client and artist decided that the original concept would not age well.
After 2 sessions *as seen in the first photo, the client found a new design that she felt was more timeless. The purple, pink and yellow lotus blossom represents a multitude of things which lends to its popularity, in Hindu culture the lotus represents beauty, purity, and spiritual awakening to this client, she says that it was "just a beautiful new refresh of an old design".
Expert Note: By incorporating purple over the darkest parts of the original tattoo and blending pink into petals the artist was able to add depth into a small area. The lotus blossom also lends itself to good cover up tattoos as the petals have multiple right angles.
Black and Gray Infinity Symbol Wrist Tattoo Cover Up 
This client from Dallas, TX came to us with a black and grey linework tattoo that was intended to be a reminder to always be "lite like a feather." The infinity-shaped feather "looked great when I first got it, eventually, the ink started to separate and the feather did not look as defined." This client wanted to eventually continue her black and gray floral sleeve which prompted the decision to get a black and gray flower tattoo to cover her infinite symbol after only 3 sessions of laser.
Expert Note: When wrist tattoos cover the majority of the wrist it is very difficult to incorporate negative space into a new tattoo design. The result is often flat-looking tattoos, this artist did a good job adding dimension by incorporating negative space in the flower petals.
Speak with a cover up expert
Removery fades and removes tattoos for new cover up designs! Speak with one of our experienced tattoo removal technicians about your tattoo cover up during a free consultation
Find a Location
How Much Do Cover Up Tattoos Cost?
Cover up tattoos tend to be more expensive than the original when considering the entirety of the process. They involve first fading the old ink to give you and your tattoo artist more flexibility to create exactly the design you want. They may also require additional touchups in follow-up sessions.
Laser removal is the best way to fade old ink in preparation for a cover up. It's the gentlest and most effective method of tattoo removal by far. What does tattoo removal cost? The average cost of tattoo removal per session varies depending on the size of the tattoo, but the overall average is $463, according to the American Society for Aesthetic Plastic Surgery. Removery offers a package deal for tattoo fading that delivers the results you're looking for while ensuring you know the full price upfront. 
Our Tattoo Price Guide provides details on what to expect in terms of pricing for a tattoo. The cost will vary by geographic location, and highly skilled cover up specialists will naturally charge more than other artists. The average cost for a tattoo tends to range from $250 to $450, while smaller tattoos range from $100 to $250. Some specialists charge a set amount per hour for a cover up above their standard rate.
Choosing the Best Wrist Tattoo Cover up for You
As our clients' stories show, there's no single best wrist tattoo out there. Instead, you have plenty of options to choose from, so talk with a tattoo artist about how to accomplish the type of design you love most. From there, you can narrow it down to a specific image with particular colors. 
We hope you take inspiration from some of the amazing ideas discussed here! Or, if you've decided to keep your current ink, you can simply cover it up for work using the ideas we've shared.
Get Updates
Stay up to date on events, giveaways and promotions.