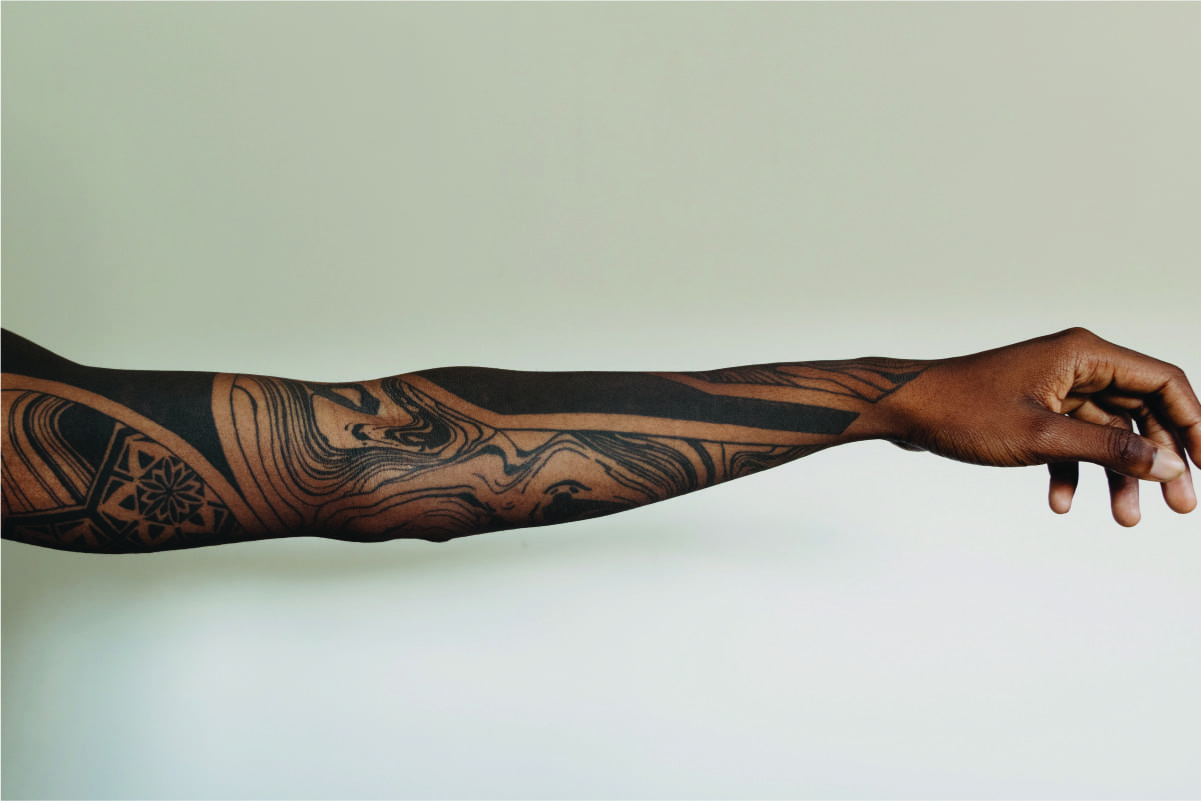 As you add more art to your body, you may begin to notice that some of your older tattoos just don't match with the newer ones. One way to make your collection of tattoos more cohesive is to upgrade the older ones with tattoo cover up. 
Some of your older tattoos may be dark or made up primarily of black ink. Are your options limited for a dark tattoo cover up? Not necessarily.
Can You Cover Up a Dark Tattoo?
With the help of an artist experienced with cover ups, any old tattoo can be upgraded to a more vivid design. You'd either work with the current tattoo as a base layer for the new, or you fade the tattoo with lasers to make "negative space" for the new design. 
Below are the six most common reasons why our clients pursue a dark tattoo coverup:
No longer like the design.

The tattoo has faded or blown out with age.

Preferences and tastes have evolved.

The tattoo represents beliefs you no longer hold.

Reminds you of someone with whom you no longer have a connection.

The tattoo has flaws, or the design has distorted with age.
It may seem that the size of the design or the amount of dark ink saturation is a barrier, but with the creative-problem solving of a talented tattoo artist, you can get a dark tattoo cover up you'll be happy with. 
However, it's not as simple as coloring over something as a painter would reuse a canvas. Instead, tattoo cover up is more like Photoshop where the old tattoo becomes a backdrop layer for the new design.
With the blending of color and its depth, shading, or detailing, the tattoo artist either creates something that integrates the old design or creates something new that completely draws the eye away to the new design.
The primary factors that determine what all is involved with dark tattoo cover up are how saturated the design is, the size of the area you want to cover, and how flexible you are about the outcome.
In many cases, the tattoo designer can work with the existing tattoo as a foundation for the new design. For example, white ink over black work gives a large block of dark ink more interesting detail and dimension
When the available means for a dark tattoo cover up won't give you the results you want, then the tattoo artist might recommend fading the design with laser removal. This will lighten it and create more negative space for the design.
Evan Olin: Dark Tattoo Cover Up
Removery works with countless artists to fade and remover tattoos for cover up work. Check out this amazing transformation Evan Olin. There are few characters darker than Freddy Krueger, but we got him to lighten up. In his place, our client got a bolder, and far more dimensional Scream tattoo - definitely an upgrade!
Dark Tattoo Cover Up Assessment
The outcome of a dark tattoo cover up depends on the talent of the tattoo artist. A tattoo removal service is sometimes also in the mix. Our team at Removery remains in contact with the tattoo artist to help our client get the cover up results they are after.
When choosing a tattoo artist, ask for examples of cover up work they've done in the past. An experienced cover up tattoo artist will likely have their own set process, and their evaluation usually consists of the following factors:
Color –

Darkness, saturation, pigment, etc.
Age –

The appearance of a tattoo changes over time. Ink fading can be to your advantage.
Detail –

Could the stronger features of the existing design serve the purpose of the new design?
Set Preference –

How specific are you about what you want?
Finding common ground between the new design you want and the characteristics of the current design is the goal for this preliminary phase. With your tattoo artist, you should discuss how to work around the existing design and explore all the tattoo cover up ideas.
A tattoo artist will likely  refer you to a tattoo removal specialist to work out any trouble areas of the current tattoo so that a new design can successfully take its place. Traditionally, your tattoo artist would suggest a design that is 30-50% larger than the current design. Laser is typically the best way to ensure uniformity and consistency of the new tattoo while also allowing the size of the new tattoo to be smaller. 
Also, keep in mind that it may take several sessions with the tattoo artist to achieve the results you want. Stay with it and trust the process until you get an outcome you can be happy with – a new design you are proud to show off.
How Dark is the Original Tattoo and What Colors are Used?
Tattoo artists are absolute wizards when it comes to coloring the skin, and tattoo modifications are a welcome challenge to many artists out there. 
Existing designs that are small with minimal saturation (such as watercolor, black and gray portraits, and clouds), thin or absent outlines, and gradient coloring or are faded are among the easiest to cover up. Also, cooler colors tend to be easier to cover than warmer colors. If yours is none of the above, don't worry. Just because a tattoo is more difficult to cover doesn't mean you can't. It's just more challenging (and a good cover up artist will be up for the challenge).
Your tattoo artist also considers how the new pigment will blend with the existing color. Certain colors could work for or against the design. 
Large and complex designs with lots of detail, rich shading, or depth of color tend to be the most successful for a dark tattoo cover up. 
How Old or Faded is the Tattoo?
Over the years, tattoos will fade. This fading works to your advantage as the tattoo artist has less pigment to cover up or disguise.
Dark Tattoo Cover Up Before and After
Tattoo depth and density determine how challenging it will be to cover. This relatively simple yet somewhat faded treble clef tattoo needed to be faded out in preparation for a more vivid design. Our client upgraded to a partial sleeve masterpiece complete with a mystical genie octopus! Amazing.
Is Laser Tattoo Removal Necessary Before I Get a Cover Up?
To reconcile what you currently have with what you ultimately want, a tattoo artist may recommend that you have the current design professionally faded by way of removal laser treatment.
"The point of getting it lasered is so you have more opportunities, more possibilities of what you can get it covered with because it'll give your artist more freedom, you know, to give you something you want to get," says New York City tattoo artist Jon Mesa. He further explains the benefits of clearing the way: "Negative space is super important on a tattoo so that it can breathe. the best way to get it to look bright and to really bounce off the skin, the colors will look a lot better, the black and grey tones will look a lot better if there's room to breathe." 
Tattoo fading makes the existing design easier to camouflage.  Lasers removing and breaking up hard angles make it less likely for the old tattoo to show through the new one. 
Once the tattoo has faded sufficiently and the skin has had time to heal from laser removal, you'll be on your way back to the tattoo artist for the most exciting step: the new design!
Book a Cover Up Consultation with Removery
Though we specialize in tattoo removal, we are also tattoo enthusiasts here at Removery. Our goal is for you to love the skin you're in and sometimes you need a tattoo makeover to fall in love with your ink all over again.
During our cover up consultation, we'll discuss your tattoo goals and what it takes to get the design you want. From there, we'll determine how many sessions are needed to prepare the area for the new design.
Not all tattoo removal lasers can remove black inks, so we use top-of-the-line Picosure tattoo removal to resolve those darker-colored areas.
Once you've decided to take the first step toward your tattoo cover up, we're prepared to refer you to a highly-skilled tattoo artist with cover up experience.
Get started on your tattoo cover up project today! Contact us to set up your free tattoo cover up consultation.