1. Multiple Back Tattoos 
It sounded like a good idea at the time to get your favorite skate brand tattooed, but now you're 40 and realized it's been misspelled for the last 20 years. 10 laser treatments later and it's goodbye to the past!
2. Dark Skin Type – Neck Tattoo 
Now you see it, now you don't! Looking for a better job opportunity? As progressive as the workforce is becoming, some tattoos still don't fit the bill. 8 laser treatments later and this client landed his dream job!
3. Green Ankle Tattoo 
Who doesn't love Kermit the frog? From the muppets to modern-day memes, Kermit the frog tattoos have made their way into mainstream media. This client got tired of Kermit peeking over her socks. 10 laser treatments later and…well that's none of our business (sips tea)
Get Your Free Removal Estimate
Connect with us to start your tattoo removal journey
Get Started
4. Dark Skin Type – Behind The Ear Tattoo
The tattoo artist didn't do as well as you expected? Tired of sounding like a broken record trying to explain what the tattoo says? This guy knows how you feel. 7 laser tattoo removal treatments later and it's as if nothing was ever there!
5. Script Ribs Tattoo 
Feel really passionate about that Pinterest quote you've had saved on your "future tattoo board" for the last 5 years? So did this guy, but things change. 12 laser treatments later and we'll never know what the rest of that quote said.
6. Finger Tattoos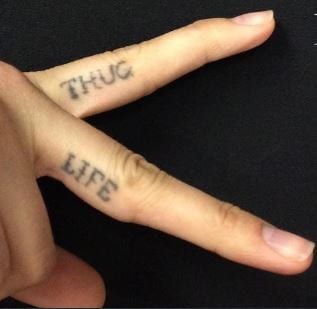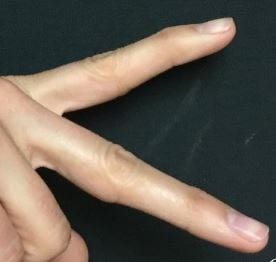 When you don't live that thug life anymore but are constantly reminded of your past. Zap! 9 laser treatments later and your secret is safe with us.
7. Face Tattoo 
Even tattoo artists remove their ink! This is tattoo artist Josh Riley (@joshril3y) from Old Vegas Tattoo shop (@oldvegastattoo). 2 laser treatments on his chin and he looks like a new man! 
Get Your Free Removal Estimate
Connect with us to start your tattoo removal journey
Get Started
8. Butterfly Back Tattoo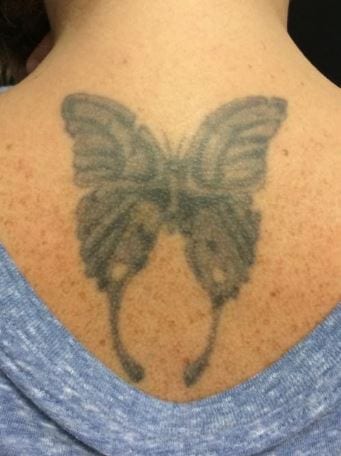 Butterfly tattoos are on the rise! Why wouldn't they be? Butterflies are majestic creatures that represent freedom. However, not all of them were done well by the artist. This client received 12 laser treatments to watch that butterfly fly away. 
9. Flower Bicep Tattoo 
Abra Kadabra! Watch that old flower tattoo fade into oblivion. 3 laser treatments later, it's gone but not forgotten. RIP rose tattoo!  
10. Dark Skin Type – Face Tattoo 
Love or lust? We don't judge your decisions. Here's an example of face tattoos removed on a skin type 6! And 7 laser treatments later, they're gone! (1 more treatment for love🖤). 
View Our Before and After Gallery
Removery has treated over 250,000+ tattoos with laser removal technology, and we've curated the top 10 best tattoo removal results for YOU. Check out our before and after gallery for more amazing results.
Before & After Gallery